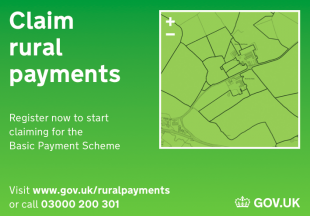 We've built a new digital service to make it as easy as possible for you to get your money. 'Rural Payments' is for everyone who wants to make a claim.
This post is now out of date.  Please check here for the latest information.
If you can't get online to do it digitally there are special support centres around the country to help you out. Call 03000 200 301 for more information on them.
The way you claim your Basic Payment Scheme money, and the rules you need to meet, have changed. This means lots of new information to gather, so we advise that you make a start now so that you have plenty of time to complete your claim. But, once all the information is in, subsequent years will be a lot quicker.
The registration section of the service is open now. Agents are already registering so they can start helping clients with their claim. We're also contacting everyone who has told us they may need help and finding out how best to assist them, and working with partners to reach people who might need more information or assistance in making their claim.
We're releasing the service gradually so there's not a 'big bang' launch and so we can gather feedback and improve the service as we go. That means some elements will be available from January onwards but you won't be able to make a complete claim until April. However, since there is quite a lot of information to be gathered we would recommend you make an early start if you can.
We'll tell you about all the changes and improvements on this blog so keep an eye here or follow us on Twitter @ruralpay for updates. Once registered, you can check back in to your account for any updates too.
This year the claim window does not exist as it did last year - you can register now and start building your claim:
From January
You should register now as there will be lots to do. You or your agent will be able to register your personal and business details and start checking your maps and land details. You can also appoint an agent to act on your behalf and set up permissions.
From February 
This is when the system will start to display things we think you need to check and you'll be able to react and amend them. This includes adding information on land cover and usage. If you have a lot of land parcels, or a lot of changes, then you should start telling us about them on the Rural Payments service as soon as you can. We will digitise your land information, and present it back to you to check it is OK.
From March 
You'll be able to start making your 2015 claim. If you've already registered, checked and amended your maps and land details this shouldn't take very long. From March you can confirm entitlements and eligibility, and can complete and submit your 2015 claims up until the 15th May.
From May
Up until 15th May 2015, you can complete and submit your claim. You can continue to submit your claim up to the 9th June but will be subject to penalties. You can make amendments to submitted claims up until 1st June without penalties. Amendments after the 1st of June, and up until 9 June, would usually be subject to penalties.
If you want to get started head to www.gov.uk/rural-payments and get registered with the new service, or call 03000 200 301.
For updates: you can follow the blog (https://ruralpayments.blog.gov.uk/) follow @ruralpay on Twitter, or for any other help you can call 03000 200 301.
Once registered, you can check back in to your account for any updates too.