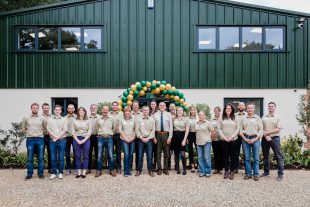 Domestic and commercial landscaping services provider, Tony Benger Landscaping, has moved to a new purpose-built facility in Devon, thanks to grant funding from the Rural Payments Agency (RPA).
The grant has helped to build new offices and storage at the company's premises at Dalwood Hill Nursery in Axminster.
The move followed successful growth each year which led to their former site presenting limitations that restricted their expansion. The new site promotes efficient and environmentally-friendly operations, allowing them to recycle and re-use materials and grow extensive nursery stock.
Managing Director Tony Benger who founded the company in 1985, said: "Our old site was restrictive for the safe and efficient operation of a growing business that aims to be 'Regional Landscaper of Choice'. When I discovered Dalwood Hill Poultry Farm was coming up for sale, the financial commitment was initially nerve-racking, but thanks to EU Growth Programme funding, the future of Tony Benger Landscaping is now an exciting topic for all staff. The next generation has room for further expansion."
He added: "The new office contains designated training rooms which will host regular training and presentations from both our internal and external trainers. The yard facilities now include well-designed bulk material bays, secure machinery storage, designated loading spaces for separate trucks and teams, and a well-equipped mechanic workshop. This has improved our operations all-round and will clearly be an essential factor for ongoing company success."
It feels like the company has come of age. We now feel we can continue to grow the business unrestricted by lack of space and facilities and are grateful that the grant helped us to position ourselves for a strong future. We are proud that our premises reflect the company that we stand for – professional and forward thinking.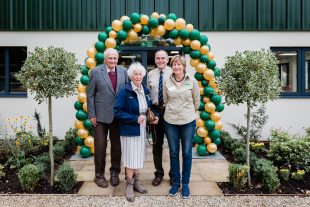 The grant, which supported over a third of the cost of the development, was successfully applied for through the RPA Growth Programme. Tony said that on the whole the application process was straightforward, though he was glad to have the assistance of an agent to help with a few tweaks and assurance that the application was sound.
He also said that RPA staff were always helpful on the phone or by email and he found the workshops very useful. Tony added: "We always felt that someone was dedicated to our case and would look into the additional notes we made and listen to our concerns."