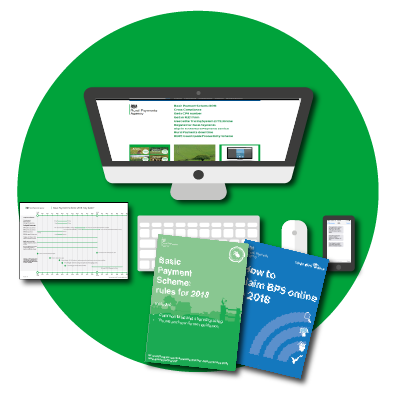 The Basic Payment Scheme is now open for 2018 applications.
We've published everything you need to help you apply on GOV.UK . Please make sure you read the scheme rules before you apply, in particular the changes that have come into effect this year.
Our 'BPS 2018 – What you need to know' webinar gives you a brief overview of the main changes this year, and lets you know a little about what we'll be doing to help with mapping changes.
We've again published the 'How to claim BPS online' guide, and have created a handy checklist to help you 'tick off' the things you need to do before you submit your online application.
We'll shortly send out paper BP5 application forms to those applicants who applied on paper last year. Once you receive your application pack, visit GOV.UK to get your copy of the 'How to apply on paper' guidance. If you don't want to wait for your paper form, call us on 03000 200 301 and we can activate your online application for you to apply online.
We've also published a Key dates timeline to help you plan your application.
Sign into Rural Payments
Make sure you sign into the Rural Payments service early so that you can check your personal and business details, review any notifications we've sent you, and make sure you've given people any administrative permissions they need.
If you're having problems signing in and need to reset your Rural Payments password, watch our handy 'Password Reset' video. This will talk you through exactly what you need to do, whether you've signed in with your customer reference number (CRN) or through GOV.UK Verify.
View your hedges
We've introduced a new 'hedges viewer' to the Rural Payments service this year. You can see the hedges we hold for your land parcels, in both Ordnance Survey or aerial photography view.
Our short 'How to view your hedges' video shows you how this works and also how you can measure the length of your hedges.
Keep up to date
If you want to get the latest news and changes from RPA there are a number of ways to do this.
You can follow this blog by clicking the subscribe button – then you'll get an email every time we publish a new update.
You can follow our social media channels listed below:
Twitter: @Ruralpay
Facebook: RuralPaymentsAgency
YouTube: RuralPaymentsAgency
We'll also send you an email from time to time when we have something important to tell you, so make sure we have your most up to date, and regularly used, email address in Rural Payments.
Remember: everything you need to apply for BPS this year can be found on GOV.UK – search BPS 2018