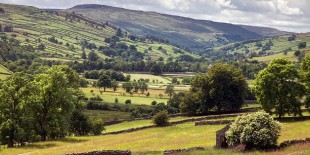 The second year of the Countryside Stewardship scheme is officially open for business.
From today, farmers and land managers can apply for the Mid Tier and Higher Tier of Countryside Stewardship, with the application window running from 14 March to 30 September 2016.
Natural England has made a number of improvements to Countryside Stewardship this year. The application window opens earlier, and for longer, than it did in 2015, and new and improved guidance material is now available on GOV.UK. This guidance has been designed in consultation with industry so it is clearer and better meets farmers' needs.
Applying for Countryside Stewardship
Countryside Stewardship grants will be offered to those who propose to make the best environmental improvements within their local area. The Mid and Higher Tiers offer five-year agreements, and have a single application window and annual start date (1 January). The Mid Tier is focused on environmental improvements in the wider countryside, while Higher Tier specifically focuses on environmentally important sites, including commons and woodlands.
Initial applications for the Higher Tier of Countryside Stewardship need to be submitted by 30 April.
Application packs can be requested from Natural England by calling 0300 060 3900. Mid Tier application packs need to be requested no later than 31 August so Natural England can send out the maps and evidence requirements in time for farmers to develop their application and submit it by 30 September.
Natural England will be contacting everyone who has Higher Level Stewardship or Entry Level Stewardship agreements expiring this year to let them know which scheme they will be most suited to and what support is available.
Other important dates for Countryside Stewardship application windows in 2016 are summarised here. Natural England has also produced an infographic to help you determine how CS applies to you.
Improvements to Countryside Stewardship this year:
Clearer, more farmer-friendly guidance material, designed in consultation with industry. This is also available as a downloadable PDF, and we're aiming to make printed versions of the guidance available on a paid-for basis in the summer
Longer application windows so farmers have more time to develop their agreements. The application window this year runs from 14 March to 30 September.
A new online options checker tool, which will make it easier for customers to choose the right high-scoring options for their applications. This will be available through the Rural Payments Service shortly.
A streamlined Higher Tier application process using a single application form and ensuring that those who are more suited to a Mid Tier agreement know early enough to apply.
More local events planned, with one-on-one clinics provided for those who want help with their mid-tier application.
Changes to make the Mid Tier more accessible to upland farmers, including suspension of the requirement for a £5,000 minimum application value and changes to some specific options to better suit upland conditions.