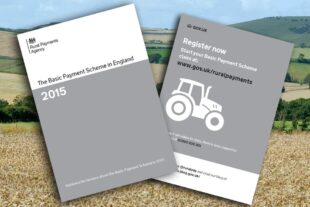 The Basic Payment Scheme handbook was published yesterday (Tuesday 24 February) and provides farmers with the information they need to make their claim.
The handbook, which can be found on GOV.UK, draws together and updates the information previously released in the CAP Reform leaflets.
It covers who can claim; what farmers need to know before they can claim; and what they need to grow and do on their land. There is also a chapter about applying online using Rural Payments.
It will be sent to those farmers with a registered e-mail address later this week. Hard copies will be posted to all farmers who meet the minimum claim size requirements of BPS (five entitlements and five hectares of land) in early March.
Farmers are advised to read the handbook in full as some guidance has changed since the publication of the leaflets and some areas are now explained in more detail.