Further information on the new Common Agricultural Policy has been published today.
This will help farmers in England learn more about how they can meet the new EU-wide requirements from 2015 to help plan their next cropping year.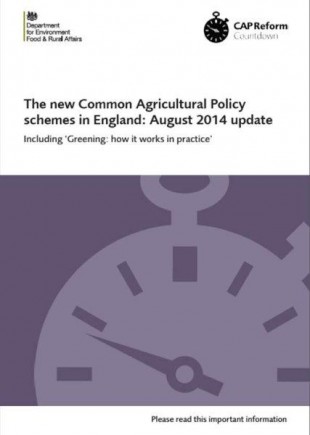 This is the second Countdown to CAP Reform leaflet which provides further guidance on:
What the new greening requirements will mean for farmers
Crop diversification rules & exemptions, including listings of spring and winter crop varieties
Exemptions from the Ecological Focus Area (EFA) rules, what counts as an EFA and how to calculate areas
Changes to the cross compliance rules
The new CAP online payment and application system, CAP Information Service
The new environmental land management scheme
There are still some rules to be finalised by the EU Commission, and Defra is seeking further details to help us provide more information to farmers on all outstanding issues.
Environment Secretary Elizabeth Truss said:
I will press the Commission for increased clarity and flexibility on greening, including a review of the three crop rule. I will champion the interests of our farmers so that they can continue to concentrate on what they do best – producing top-quality, world-class food.
See the new leaflet for more information, and we will continue to post regular updates here so farmers, agents and agronomists know exactly how to claim and by when.