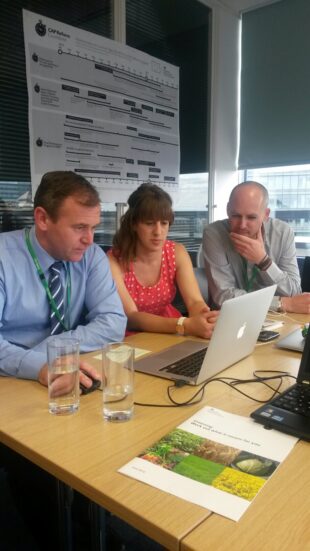 The team behind the delivery of the new online application and payment service, CAP Information Service, received a visit yesterday from George Eustice, Parliamentary Under-Secretary for Defra,
who came to review progress as we get ready to invite customers onto the service gradually from late July onwards.
We'll initially be inviting small groups of customers to register and then by late October, everyone wanting to claim CAP payments and apply for CAP schemes in 2015 will be able to register.
Using the service, the Minister completed the activities that farmers will need to do from late October onwards to get ready for submitting claims and applications for the new CAP schemes in 2015.
These include:
Registering to use the service
Accepting the Terms and Conditions
Viewing and updating personal details
Viewing business details
Giving permission to others to use the service
And adding land features to land parcels using online maps
We asked the Minister to use the online mapping service to sketch on a hedgerow around a land parcel, using a tool that enables farmers and agents to "snap to" a land parcel boundary.
We're introducing the service gradually, initially by invitation only, to avoid any teething troubles and to check the support that we've put in place meets customers' needs.
If you'd like to get online before late October, please contact the CAP Delivery Programme to take part by e-mailing us: capdeliveryprograme@capdelivery.gsi.gov.uk